The early spring bloomers are finished and now it is time for the tough summer blooming plants to be the stars in the garden.
If you love the vibrant colors of summer flora, check out these 15 no-fail flowering plants that will bloom all season long.
Dahlia Plant

– Dahlias are among the lowest maintenance, highest production cut flowers and garden plants you can grow. In a good year, they'll bloom from late June to early December (particularly in a sheltered areas). Dahlias come in all shapes and sizes, and are available in most of the colors.
Marigold Flowers

– Marigold plants are a very prolific, easy to grow annual flowers. Kids love 'em and adults love 'em too. Marigold flowers are available in a variety of colors, including white, yellow, orange, red and mixed colors. Marigold will bloom from mid-summer all the way until late winter. They can be used for indoor arrangements, but they give off a pungent odor that is sometimes too strong for indoor areas.
Sunflowers

– Nothing is more close to the "summer" word then bright rows of brilliant Helianthus flowers, commonly known of as sunflowers. Easy to grow, this North American native is a fun plant to add to your vegetable garden. You can choose sunflowers in many different colors featuring heights between 4 to 12 feet.
Often seen as a border plant that gives height to the back of a flower bed, sunflowers are multipurpose. They provide beauty to your garden and are a food source for birds and squirrels.
Purple Wave Petunia

– Wave Purple Petunia produces stunning violet trumpet-shaped flowers. Its pointy leaves remain green throughout the season.
Globe Amaranth

– A tender, flowering plant that can be grown everywhere in the U.S., globe amaranth blooms in shades of pink, purple, and white. It's a lovely addition in the garden where it provides continuous blooms starting from early summer. Place it in a sunny border along with shorter, complementary-colored annuals. Hummingbirds and butterflies will thank you.
Profusion Zinnias

– If you want no-fail flowers that will give you beautiful color all summer up until late winter, then I recommend planting profusion zinnias!
Evergreen Candytuft

– This decorative sub-shrub produces a dense flush of white flowers twice a year. It grows easily, looks fantastic and blooms consistently.
Brown-Eyed Susan

– Brown Eyed Susan is an herbaceous biennial with an upright growth habit. Its medium texture blends perfectly into the garden, but can always be balanced by a couple of coarse-textured plants for an effective ambient.
This is a relatively low maintenance plant, and should be pruned in late fall. It is a good choice for attracting butterflies to your yard, but is not particularly attractive to deer who tend to leave it alone in favor of tastier treats. It has no significant negative characteristics.
Sea Holly

– This ornamental shrub is known for its thistle-like, pineapple-shaped flower that is surrounded in spiky, often silvery blue bracts (leaves immediately surrounding a flower).
The flowering shoots and roots are edible. The shoots are sometimes compared to asparagus, while the roots, usually boiled or roasted, have a chestnut-like flavor. The sea holly is not likely to be eaten by animals because of its spiky leaves.
Gaura 'Belleza White'

– This elegant white plant produces airy flowers and is great for containers; attractive to butterflies; heat tolerant.
Joe Pye Weed

– These native perennials grow easily. It also attracts butterflies, hummingbirds, and bees. The flowers smell sweet with a vanilla scent, beaing extremely attractive to these beneficial pollinators.
Perennial Hibiscus

– Looking for that rock-solid perennial that will deliver color in the garden year after year with no fuss? If so, consider adding hardy hibiscus to you flower bed. This plant delivers on all points: bold flowers, nice foliage and easy to maintain.
Purple Coneflower

– Purple Coneflower, (Echinacea Purpurea) one of the most popular flower for flower beds. This plant can thrive in any type of well-drained soil, even clay.
Aster Plant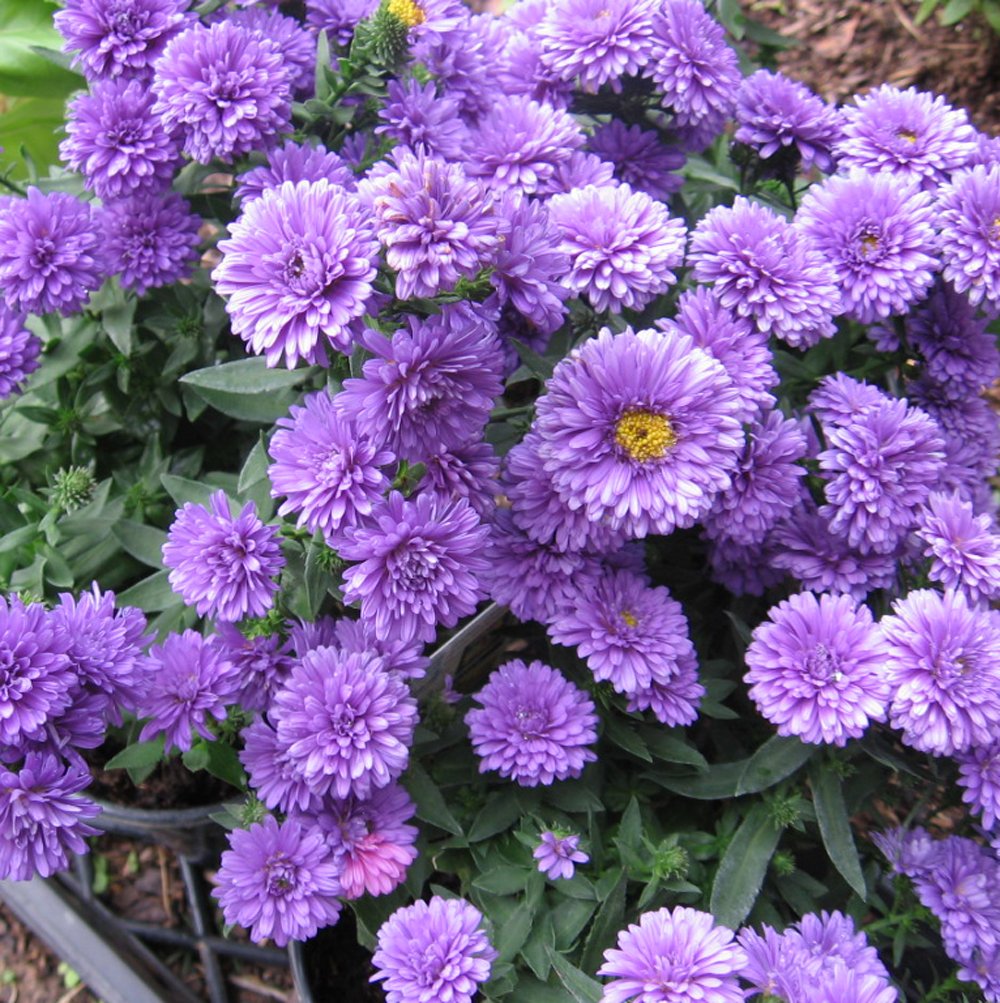 – When most of the ornamental plants have already faded, the colorful white asters make their great appearance on stage. The colorful and densely flowers bloom between August and October. Asters are also popular as cut flowers in autumn bouquets.
Stella de Oro Daylily

– Stella de Oro is a vigorous, free flowering, dormant daylily. This easy-to-care plant do great in small gardens or containers. It's also a drought-tolerant perennial.